The Interim Secretary General of the Pacific Islands Development Forum Mr Amena Yauvoli today received a Delegation from Indonesia that is on a scoping mission to Fiji from the 18th to the 21st of May, 2015.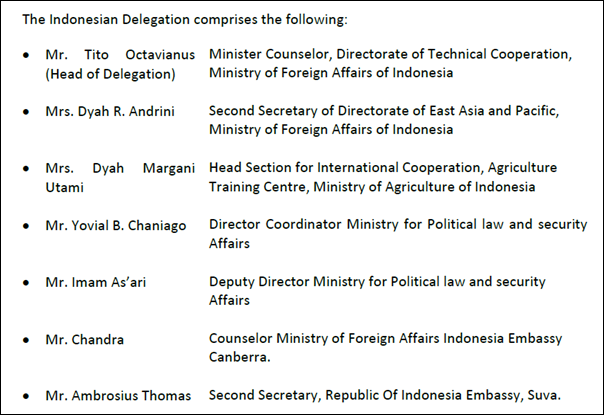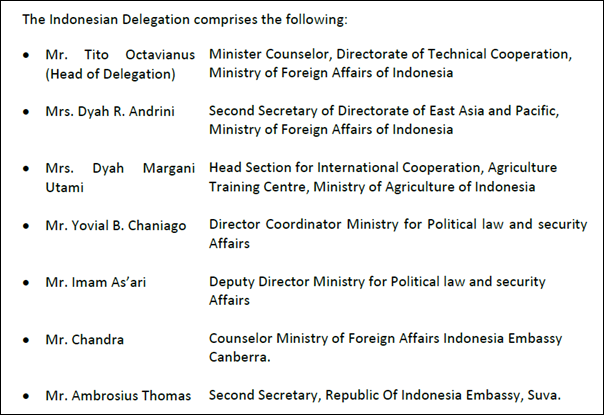 Explaining the purpose of the visit Mr Yauvoli said,
"In recognition of the importance of bilateral cooperation and development cooperation assistance between the Pacific and Indonesia, Fiji invited the (then) President of Indonesia to open the 2nd PIDF Summit that was held in Nadi, Fiji in June 2014. In his address at the 2nd PIDF Summit in Nadi, (former) President Prof. Dr Susilo Bambang Yudhoyono announced a commitment of US$20 million to help Pacific Island states address climate change in a bid to boost the green economy in the region. 
The Government of Indonesia Scoping Mission is to explore how we can progress the USD$20 million development assistance from the Government of Indonesia for PIDF/MSG countries for the periods 2015 to 2019. 
Indonesia has been supportive of the PIDF and PSIDS since our establishment. I am grateful for instance to the Government of the Republic of Indonesia for the invitation extended to the Interim Secretary General (Mr. Amena Yauvoli) of PIDF to attend the Asia Africa Commemoration Conference 2015 that were principally held in Jakarta and Bandung on 19-24 April. 
The PIDF is encouraged by the integration of the Pacific SIDS into the fold of Asiancooperation frameworks. We welcomed in particular the concern expressed in the Bandung Message , amongst others, that developing countries, particularly Least Developed Countries (LDC's) and Small Island Developing States, (SIDS) are vulnerable to the adverse impact of climate change necessitating the call for effective and participative cooperation from all stakeholders at local, national, regional and global levels that fully respects the principles, provisions and objectives of the UNFCCC. 
The discussions today seeks to operationalise this Indonesian commitment to the Pacific through the PIDF. This is just the beginning of our conversation on this important Indonesian initiative and my Deputy Mr Penijamini Lomaloma will continue the discussions when he visits Indonesia next month.
Pacific Island developing countries are situated in an ocean of opportunity. The challenge lies in turning opportunities into sustainable economic, social and environmentally responsible benefits for the people of the Pacific. This calls for a different vision of growth, one that is fair,
inclusive and within planetary boundaries. I am pleased that the PIDF and Government of the Republic of Indonesia can work collaboratively for a Pacific that is low-carbon, resource-efficient, socially inclusive and creates responsible entrepreneurial activity and decent work and well-being for all."
YouTube link which has the video meeting between PIDF and Indonesian delegation: https://www.youtube.com/watch?v=G7QoYRZ4rK8